Heatwaves are among the most dangerous of natural hazards and cause health problems and a higher mortality.To deal with the risk of heatwaves, OPERANDUM has implemented a Nature-based Solutions (NbS) in Hong Kong.
Aim of OAL focused on Heatwaves
Operandum Open-Air Laboratories (OALs) cover a wide range of hazards, with different levels of climate projections, land use, socio-economic characterization, existing monitoring activities and nbs acceptance. The aim of the OAL that focuses on heatwaves is:
  OAL Hong Kong: to investigate the mechanisms and mitigation of heatwaves in rural and urban Hong Kong, and to develop a tree model which can be coupled into urban canopy model.

Hong Kong has a subtropical climate with high temperatures throughout the year, with an average annual temperature of 24℃. Summers are hot and humid, with temperatures ranging from about 27 to 34℃; winters are cool and dry, but rarely drop below 5℃. In the summer, the occurrence of heat waves has been on the rise in the last ten years. 
OPERANDUM's ambition is to address and overcome barriers through Open-Air Laboratories (OALs). The aim of these OALs is to produce innovation, to drive the change in current practices of land planning and improving resilience to hydro-meteorological hazards, and by producing advancement of state-of-art and innovative nature-based measures in several areas. OALs that is focusing on the risk of heatwaves are:
Effective and scalable Nature-based Solutions (NbS) can help governments address the growing challenges of climate change, biodiversity loss, increased frequency of extreme weather and natural hazards. Below you can read more about hazards related to heatwaves.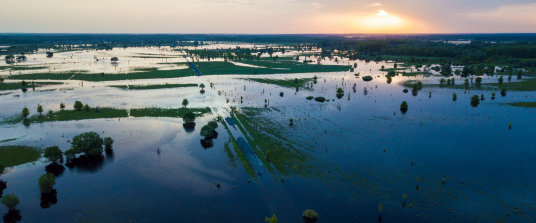 Flooding
The fear of flooding is a major perceived risk. Floods affect many areas, such as agriculture, infrastructure, local businesses as well as the tourism sector. To deal with the risk of flooding, OPERANDUM has implemented multiple NBS.
Have a question, feedback or want to work with us?